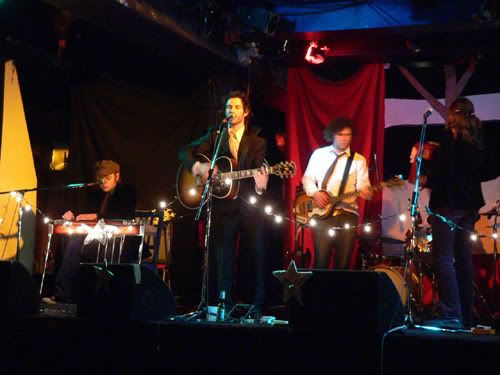 While it clocks in at a very brief 34 minutes and change,
Nathan Lawr & The Minotaurs
'
A Sea of Tiny Lights
(released October 2, 2007) is a soul-infused album taking on elements of funk and jazz and drawing inspiration from many subjects to address a number of timely topics.
Putting down the drumsticks from previous musical incarnations, Lawr grabs the microphone, the guitar, the organ, and comes back to the drums on
Tiny Lights
, creating a modest record full of mid-tempo songs with swanky beats ("That Moment").
Whereas on his debut,
The Heart Beats A Waltz
, Lawr seemed a bit skittish, on this album he steps forward with the surefootedness of a songwriter who has found his voice and is willing to stand on a soapbox with a guitar and make a point ("There's A Devil"). Here, instead of experimenting with sounds and instruments and fumbling towards style, Nathan Lawr & The Minotaurs patiently build grandiose and sometimes spooky ("The Glass") compositions that make for one of the best albums of the year coming out of Canada.