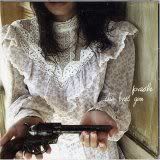 A few weeks back, I reviewed
Pash
's newest album,
The Best Gun
(
Exotic Fever
, 2007), and raved about the track "Kill The Rich Boys II". Well,
DJ Frequency
, an old college buddy of Pash, did too and he remixed the track. Quite a double whammy: you get to hear a Pash remix, and you get to learn about Frequency, who has a track on the latest from
Snoop Dogg
, and is working with
Ghostface
and
Raekwon
from the Wu-Tang Clan.
Maybe I've missed it in the three times I listened, but where was Snoop?
Catch Pash at these upcoming dates:
10/18 Brooklyn, NY Matchless Bar CMJ
10/26 Baltimore, MD The Lo-Fi Social Club
10/27 Fredericksburg, VA Wet Paint Fundraiser, 3rd floor studio
10/28 Washington DC The Red and Black
10/31 Fredericksburg, VA The Loft
11/04 Trois Rivieres, Quebec The Pub Cafe
11/05 Montreal, Quebec Bar St. Laurent
11/17 Washington DC The Lab