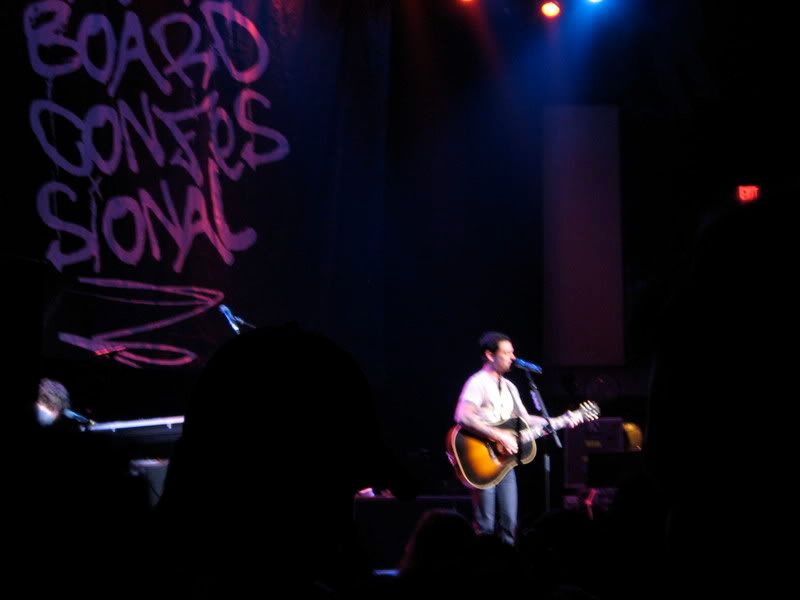 Forgive me, but I'm skipping the opening acts from this show. Kristen had a birthday this past week, and we also had a death in my family, so we've had mixed emotions the last few days. It was nice to get out on Friday evening after dealing with our personal tragedy to enjoy a show.
Dashboard Confessional
kicked off an anticipated solo tour last Friday at
Ram's Head Live!
in support of a new album,
The Shade of Poison Trees
, out tomorrow on
Vagrant Records
. After a first listen, the record definitely puts aside the full-on band style of
Dusk and Summer
, but lacks the emotion of
Swiss Army Romance
and other earlier DC albums.
Changing guitars like
Christina Aguilera
changes wardrobe, Carrabba blasted through songs from his entire catalogue, inspiring sing-along and screaming amongst members of the crowd on songs like "Screaming Infidelities" and the obvious "Vindicated" and "Hands Down" (admittedly my favorite Dashboard song). However this night's crowd was relatively clueless on lesser-knowns including "Carry This Picture".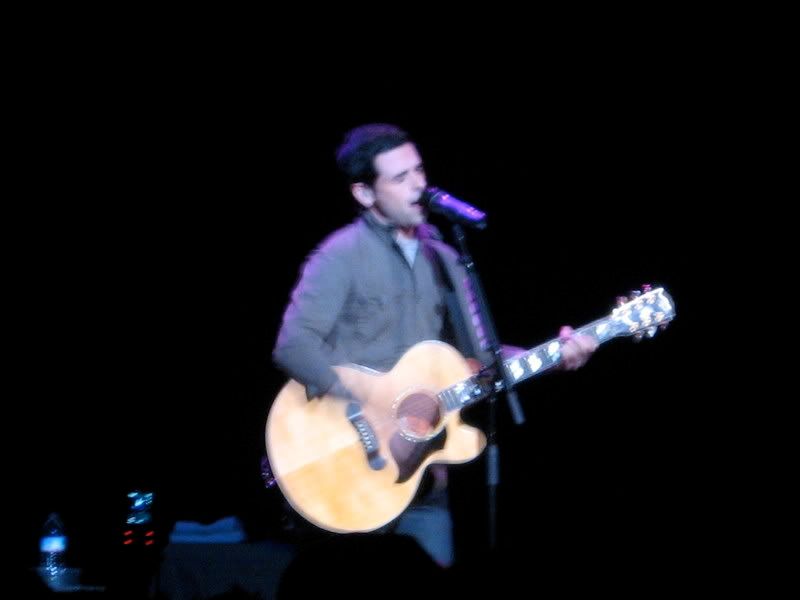 Speaking of clueless, apparently $31.00 for a ticket isn't enough to cause a room full of Gen-Y kids to shut their mouths and listen to the music. As with the
Regina Spektor show last week
, it was a battle to hear the music over the chatter of the crowd. Only after forging our way into the middle of the floor were we able to hear reasonably. Note to Ram's Head Live! management, turn it up!
As with any Dashboard Confessional show, it was 50% Chris Carrabba, 50% crowd singing. One member of my party may have suffered a punctured eardrum from the screaming boy behind her. Partly because of easy-to-remember songs, part because of a rabid fanbase, there exists a sense of community among Dashboard fans as they belt out their favorite songs with their icon. The only downside? The burning screams of Chris Carrabba were turned over to the crowd instead of coming from the author himself.
Launching from "The Best Deceptions" to the new song "Thick As Thieves" around to "Again I Go Unnoticed" and "So Long, So Long", Carrabba shared songs in a much more intimate performance as a solo player than recent tours with his band. This comes as a real pleasure to my inner circle which has made many jokes about the rock star persona of Chris Carrabba and a certain violinist in the band.
A solid performance by Carrabba overall is undermined by a sense of complacency. New songs like "Where There's Gold . . ." (following that ellipses is the lyric "there's a gold-digger.") seem to reach for straws of anguish to spawn new material rather than the agony of the scathing "Turpentine Chaser" or, even better, "This Bitter Pill".
Sorry, Chris, but I liked you better when you were shy and put upon.