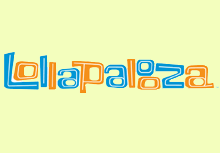 The dates for
Lollapalooza
2008 have been confirmed as August 1-3 in the semi-permanent residence of Grant Park. After this year's lineup, which was impressive, to be sure, what's in store for '08? We'll have to wait and see.
A few suggestions:
PJ Harvey
, a newly reunited Babes In Toyland (yeah, in my dreams),
Cat Power
,
Liz Phair
with her pants back on and with her good music in tow (maybe a full performance of
Exile In Guyville
, a la Slint's
Spiderland
performances?). I don't know why I'm naming all female artists here, I believe it to be a mere coincidence. But it could be a prescient vision of a
Lilith Fair
revival.