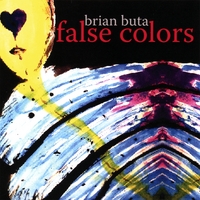 On his first full-length solo album,
Brian Buta
expands on the sound of
FasterFasterHarderHarder
, the band he formed over two years ago, pushing post-punk to the rear while electronic experimentation drives forth with rhythmic bass, textured synths (try the title track, "False Colors"), and near-new wave vocals on
False Colors
.
"Black Ring" introduces itself with long synthesizer notes, keyboards, and a submariner bass line. The multiple layers throughout the album add depth to the shifting ambience throughout, as the songs move from the dark and ominous to the bright and shining ("Screens"). The straight, hardline beat of "Caloris Basin" meets well with the new-wave punk "Emergency".
False Colors
is most intriguing as it is entirely a solo project, all instruments being played, vocals being sung, recorded/mixed/mastered by Brian Buta himself. Down to the artwork, this is handmade by a musical being. I'm led to wonder if he put each jewel-case together by hand in an effort to retain absolute quality control over his creation. An artist to the core, Brian Buta makes it clear with
False Colors
that he is an incredibly creative soul.
Listen to "Open" for the ascendancy and "Motion Action" which closes out a one-man show with fuzzy guitars and a vocal hook that will stay with you for hours.
Click the album art to purchase
False Colors
on CDBaby.
Free MP3s:
Brian Buta - "Open"
Brian Buta - "Motion Action"