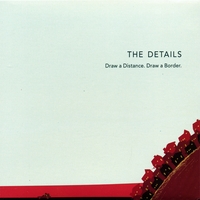 The debut album from Winnipeg's
The Details
is anthemic from start to finish, each song a heartful lament on the past or a startling thought of what's to come. The gentle chorus of "Hit Parades" propels an unveiled song of pity for those who suffer in war and those unaware casualties of fame. Not only do the melodies create barnstorming songs such as "Reunion Souvenirs" (a new-wave banger and instantly recognizable as the key track of the album and which strangely has the author thinking of Robert Palmer), but lyrical gems like "you've let your hatred rhyme with love" ("A National Anthem") vocalize the discontent of an entire province.
As a lyricist, Jon Plett (along with Sean Vidal) is almost never too ironic, usually sparing listeners from tired and repeated juxtapositions. Instead, we're treated with small victories in the form of "We never quite remember, so I'll carve our names in every fence and barely living tree" ("Underground"), howled with a careful balance of emotion and prescience, as if he knows the pain is only temporary.
Draw A Distance, Draw A Border
is captivating from the start. Every track fits the album, and the songs are accessible without being diluted. Masterful pop with more than just a touch of hard rock, The Details live up to their name, giving plenty of attention to what it takes to make a good record.
Click the album art to purchase
Draw A Distance, Draw A Border
.