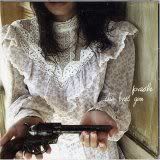 Say hello to Fredericksburg, Virginia's
Pash
. Two years after their debut, Pash have delivered
The Best Gun
, a pop (without the cheese) rock record fueled by galloping drums ("Kill The Rich Boys I & II"), danceable riffs ("Down"), and often heart-shattering lyrics.
Unleashed on
Exotic Fever Records
on August 28,
The Best Gun
is crafted with full-rock bangers like "The Battle Ended There" and subtly instrumented, melodic and accessible hits such as "The Best Gun". Urgent vocals powerfully propel
The Best Gun
, riding the power chords of "What Do We Always Say" and resting on the jangle of "The Promised Land" before sounding off a cataclysm in "Down". Even though Pash can sometimes sound lean for a quartet, the band is always listenable, never pretentious, and crafts clear, bright songs with pop culture potential.
The Best Gun
is a rapid-fire 11 song repertoire, and the album's loud report will leave your ears ringing long after all of Pash's bullets have left the chamber on this release.
Click the album art or visit Exotic Fever at
exoticfever.com
to buy the CD.
Free MP3: Pash - "Down"