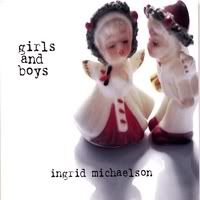 Ever since scoring her first song placement on
Grey's Anatomy
,
Ingrid Michaelson
has continued to garner exposure on the show, culminating in a place on the most recent season finale, where her track "Keep Breathing" (composed for the show) played during the final scene.
But she's more than just a made-for-TV soundtrack genius (she's also been played on The Real World: Denver, One Tree Hill, and The Bad Girls Club). Ingrid Michaelson's album
Girls & Boys
is full of colorful tunes that are easy to digest, with themes of love both rueful and remorseless. Michaelson's use of metaphor in songs such as "Breakable" does not dilute the fragile nature of her tales about the most sensitive of human emotions.
Michaelson's dulcet, near-cherubic voice calls upon the sugary vocals of Leigh Bingham Nash but never comes on too strong, as Ingrid's delivery is direct and unassuming. Never pretending that love is a perfect and painless experience, Michaelson's charming voice has a way of making the reality of love's consequences palatable. A much better way to approach her music than some of the vapid songstresses who sing tales of a love only fit for teen movies.
Nor does
Girls and Boys
toe the line and play it completely safe, as songs move from electric guitar to organ, rock to indie pop, without losing its footing.
Buy the album from CDBaby