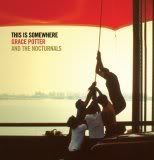 New today from the always soulful
Grace Potter & The Nocturnals
is the fully rockin'
This Is Somewhere
(funny how I was listening to Neil Young & Crazy Horse's
Everybody Knows This Is Nowhere
just before receiving this album). Potter's voice is alternately breathy and bold, bursting forth with spirit and sensuality. At all but 24 years of age, Grace Potter sings with the force and credibility of a songstress twice her age. Lest this site fall into the trappings of chasing the lead singer of a well-rounded band, the Nocturnals - Scott Tournet on guitar, Bryan Dondero on bass, and Matt Burr on drums - provide the sound that completes the elegance of
This Is Somewhere
.
The album starts off with a delicate verse in "Ah Mary", reminiscent of the band's last album, before exploding into an aggressively driven roots-rock chorus in a tale of Mary and her dangerously provocative personality. On
This Is Somewhere
, Grace trades between a Hammond organ and a guitar, adding more punch to this record than on
Nothing But The Water
. For a band that has fit so nicely into the jam band circuit, this album could present a challenge to fans returning for another groove.
Choice cuts from the album: "Ah Mary", "Stop The Bus", "Big White Gate"
Click here for a streaming preview of Grace Potter & The Nocturnals' This Is Somewhere