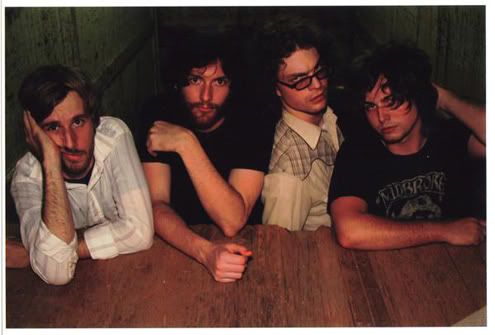 Steve from
J Roddy Walston & The Business
(
read a review of their latest, Hail Mega Boys, here
) was kind enough to answer some questions for me at the end of their recent tour:
1)
You guys are currently out on tour. What's the best/worst thing about road-dogging as a band?
We're fairly new to extended touring, so these may just end up being first impressions. I'm not the kind that gets homesick too easily, so I ended up missing privacy more than anything. You end up trying to grab snatches of quiet when you can. I'll take a walk whenever we have the time - I really like checking out new towns like that, and it gives me time to think or make phone calls or talk to myself or whatever. You'll never miss the ability to sit on your toilet and read a book like after you've been crapping in gas station bathrooms for a month.
But from watching the guys with girlfriends, keeping everything together back home when you're gone for weeks has gotta be one of the hardest thing for a touring musician. It'll put a strain on any relationship and once you're out on the road and hours away from home, all you can do is talk about it - endlessly.
2)
It's clear from the new album [Hail Mega Boys, available now] that there is a lot of roots rock and rockabilly influence in the music. How does each of your personalities/creative influence manage to come out on record?
If you'd ever heard the band before Billy and I and joined, it was much quirkier and poppier - kind of like The Band on acid, or maybe Supertramp fronted by Harry Nilsson. Zach's been with Rod longer than anyone, so by now they can practically read each other's mind about where to place harmonies and how they should be sung. Surprisingly (unsurprisingly if you look at him) he's a total metalhead, though he still keeps a soft spot for shit like Imogen Heap. Billy tends to push the songs the hardest - he's the hardest to please, but his instincts are tried and true. He's a pretty hard rocker - lots of Guns and Roses and Motley Crue, but also tons of classic rock, especially Queen. I'm a pretty meat and potatoes guy - I just try to drive the songs as hard as they need to be driven, and keep everything solid and hanging together. I'm definitely from the Grohl school of playing drums, but I'm a huge Ringo fan along with all the drummers on Dylan's mid-60s records. Rod is kind of the ring-leader - he normally has some kind of vision for the song before we all sit down and he keeps everyone on task and optimistic. He's a huge fan of quirky songwriters like Nilsson, McCartney and Newman, but he's a big Jerry Lee Lewis, Little Richard and Buddy Holly fan, too. If the end result sounds like Bonham backing The Band - or Jerry Lee Lewis fronting The Band - then we're on the right path.
3)
While the music is bright and generally raucous, the lyrics are sometimes quite melancholy. Do you guys try to make happy, danceable songs, or is there less a formula than a see-if-it-works mentality?
We just like writing stuff that's fun for us to work on and fun for us to play, and usually if you get that, it lends itself to being fun for the audience. The songs are definitely written with a "let's feel this out and see where it goes" approach. As for Rod's lyrics, I'm not sure what he's aiming for; though I will say that one of the underlying themes of the record is Rod's disillusionment with Baltimore and the rude shock to the system that it hit him with.
4)
Hypothetical: You're down to your last twenty bucks amongst you on the road. You've got 1/8 of a tank of gas in the road wagon and 150 miles to the next show, and you're down to your last [insert favorite vice here]. Do you go the responsible route and gas up, or ride on fumes and restock the goodies?
Neither - we're converting our van to be able to run on vegetable oil this Fall, so we'd keep the twenty and put it towards a hotel room so we can avoid sleeping at so many dude crash pads. We're an incredibly boring band when it comes to vices.
----
J Roddy Walston & The Business will be playing at
Ottobar
here in Baltimore on August 17th.
Download "Rock and Roll The Second" from Hail Mega Boys