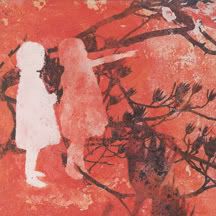 The duo of Andy Stack and Jenn Wasner make up
Monarch
, making their mark on Baltimore's indie music scene in the year since their formation by layering catchy pop hooks with feedback to form a shoegaze that alternates between minimalistic sparseness and a cacophonic instrument salad.
Last week marked the release of Monarch's debut LP
If Children
(available now from
Morphius Distribution
). Monarch thrives on using feedback to seamlessly push songs like "Orchard Fair" through an electric chorus. Jenn Wasner wins when she starts breathily and almost incoherently melodizing over a loose piano hook on "Keeping Company".
While Monarch find themselves in a genre known for layering sound on sound, tracks like the just mentioned "Keeping Company" and its country-twinged follow-up, "A Lawn To Mow", are spare, unassuming, and magical. While Wasner leads on the former, Andy Stack takes the microphone on the latter, giving us a chance to hear the two separate and in their own space. Vocal harmonies have their place on the record, but it's a fresh breath to hear these multi-instrumentalists sing for their supper apart from one another.
About three minutes in, "If Children Were Wishes" takes off for the stratosphere, with Wasner's voice projecting strong and proud over the fast-picking guitar. A massively proportioned track, showing in full view one of the reasons Monarch is known for packing a lot of sound in their small footprint.
If Children
mingles in a room full of shoegaze, alt-country, folk, and noise, shaking hands, kissing cheeks, and making friends with everyone. Perhaps friends of any of these genres should seek an introduction.
Stream the whole album or purchase Monarch's If Children
Free MP3: Monarch - "Warning" from If Children