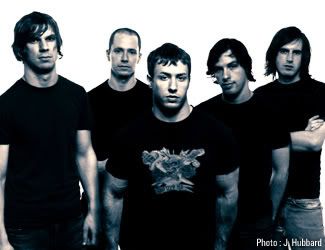 Dillinger Escape Plan
tour dates begin to surface along with news of their forthcoming release,
Ire Works
, due November 13 on
Relapse Records
.
10/4 Cleveland, OH @ Peabody's Down Under
10/5 Pittsburgh, PA @ Rex Theatre
10/6 Chicago, IL @ Subterranean
10/7 St. Paul, MN @ Station 4
10/8 Papillion, NE @ The Rock
10/9 Denver, CO @ The Marquis Theare
10/14 Santa Ana, CA -Galaxy Concert Theatre
10/17 Spring, TX @ Java Jazz
10/20 Fort Lauderdale, FL @ Culture Room
10/21 Orlando, FL @ Backbooth
10/22 Atlanta, GA @ Masquerade
10/23 Baltimore, MD @
The Ottobar
10/25 Cambridge, MA @ The Middle East
So, in a somewhat unique milestone, this is the 666th post on Any Given Tuesday. Seems fitting that some metal would fall into this slot!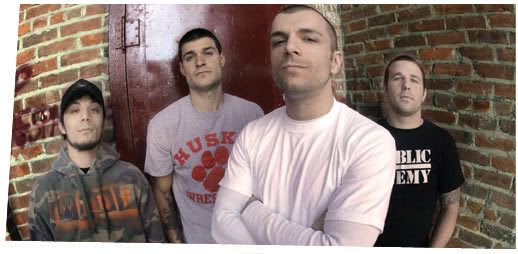 Some of you know that I'm really into hardcore.
Throwdown
are one of my newer favorite hardcore metal bands, with uplifting, positive lyrics a la
Hatebreed
(
Read a review of Hatebreed's Supremacy
). Check out "Holy Roller" and get blown away.
Free Metal Monday MP3: Throwdown - "Holy Roller"
And, in the final installment of the Metal Monday Post #666 extravaganza, my show buddy and I caught the
Ozzfest
off-date show of
Lamb of God
,
Hatebreed
, Canada's
3 Inches of Blood
, and Poland's
Behemoth
at
Ram's Head Live!
last Thursday night. What a show!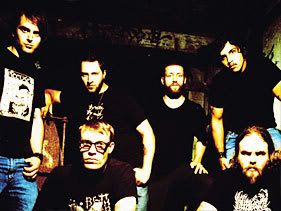 3 Inches of Blood are
Iron Maiden
-influenced Canucks, blending New Wave of British Heavy Metal high-pitched vocals with fantasy-themed lyrics combined with growling backing vocals (often co-vocals as both styles share the spotlight) and a thrash/power metal musical run. The brief set by this band was efficient and fun, bringing some of the old school back and blending it with modern extreme metal trappings.
Free MP3: 3 Inches of Blood - "Goatrider's Horde"
Following up, Poland's Behemoth entered the stage in full death metal regalia, and commenced to unleash their furious black/death sound on this crowd full of hardcore and southern metal fans. The language barrier was minimal as Nergal's between-song commentary was in a moderately-accented English that only once left fans scratching their heads trying to find out just what he was saying. Musically, relentless and theatrical, Behemoth rocked their set with fast thrashed-out death metal in support of their latest album,
The Apostasy
.
By the time New England hardcore powerhouses Hatebreed took the stage, the whole place was whipped into a frenzy. Hatebreed is one of the hardest-working bands in showbiz, always touring, supporting and promoting their music and the music in their community (singer
Jamey Jasta
hosts
MTV
's
Headbanger's Ball
), and putting out quality music. Still out supporting the awesome 2006 release
Supremacy
(1 year old tomorrow), Hatebreed never fail to impress, both on record and on stage.
Unleashing "Empty Promises", the opening track from
Satisfaction Is The Death of Desire
(
ten
years old as of Veteran's Day this year) early in the set, the band sends a message of respect and appreciation to its older fans and a voracious hunger for new ones by destroying Ram's Head Live! with "Destroy Everything", "Never Let It Die", and the closing "Perseverance". Sweating with positive aggression, every member of this band makes a point to interact with their crowd, mouthing thanks to the adoring masses.
Read Any Given Tuesday's review of Hatebreed's last appearance at Ram's Head Live!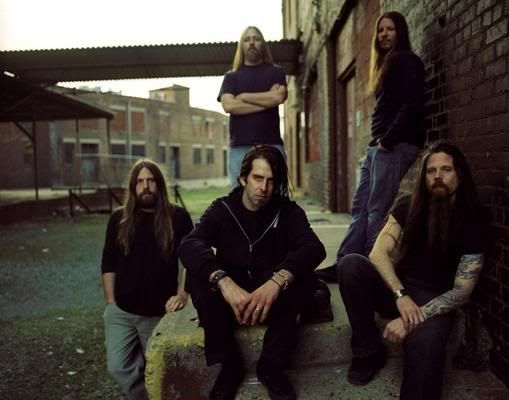 After Hatebreed left the venue in a ball of dust and positively sweltering with the body heat from a packed house of aggro pit people, Lamb of God made their rock star entrance and lived up to their title as
Revolver Magazine
's Best Live Band of the year. Blasting out the technical guitar riffs, Mark Morton and Willie Adler were blowing minds like shooting tin cans off a fence post, backed by Chris Adler's pounding double bass and echoing rimshots, with John Campbell laying down the groove for Randy Blythe's demon-summoning, menacing screaming and growling. Pacing the stage like a caged animal, Blythe stagedives into the crowd about a third of the way into the set, causing a crowd frenzy soundtracked by melting guitar breakdowns. Another set that runs the gamut, from
Sacrament
's "Redneck", "Pathetic", and the blistering "Walk With Me In Hell", to "Ashes of the Wake" and original Burn The Priest (Lamb of God's former moniker) material. As usual, closing the set with "Black Label" and the signature wall of death crowd antics, Lamb of God rocked the (almost) hometown show and left Baltimore regretting having to wake up on Friday morning.