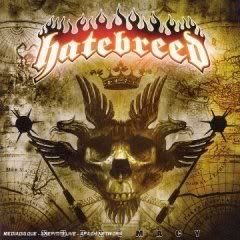 4 out of 5 stars.
Supremacy
, Hatebreed's first release on
Roadrunner Records
, is their best yet.
Rise of Brutality
was the breakout album for the group, but this is the album that proves to the industry that they are the kings of hardcore. The opening track, "Defeatist", starts the onslaught, and it continues relentlessly through the closing "Supremacy of Self".
Hatebreed's name deceives the positive message that Jamey Jasta (the voice of headbangers all over as the host of MTV's Headbanger's Ball) brings through his lyrics. Jasta and bandmates believe in their music and the impact that it can have on its listeners, and their dedication is not hidden on
Supremacy
.
"To The Threshold" remains true to its title and pushes the album to the threshold with blistering double bass and riotous vocals, including a chorus that insists on making heads bang. "Destroy Everything" delivers the best bass lines of the record, and Jasta's screaming chant is enough to stir even the most apathetic of listeners as he channels Phil Anselmo all along.
Jasta's vocals, Matt Byrne's drums, Chris Beattie's bass, and the duel chugging guitars of Sean Martin and Frank "3 Gun" Novinec (who joined the band this year and brings an impressive resume of hardcore experience with him) come through with wonderful clarity on this record. In fact, for Byrne, this record is his shining moment, displaying impressive work throughout the record (check out the drum solo on "Divine Judgment"). The return of the band to a 5-piece, and the power of adding Novinec really shines on "Immortal Enemies" and "As Diehard As They Come".
On their new label, the band receives the attention to production they've needed and deserved, and delivers the hardest, most uncompromising offering of their career.