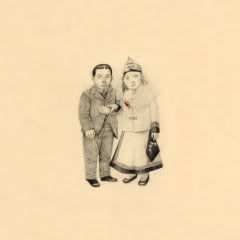 3.5 out of 5 stars.
Far from selling out as many fans were concerned the move from Kill Rock Stars to Capitol Records would be,
The Crane Wife
, produced by Death Cab For Cutie's Christopher Walla, benefits from the major label move, giving the group a big label sound without losing the independent style. Colin Meloy has become the literary giant of music, with all his apostrophes, "thees" and "thous", and not to mention five-dollar words like "arabesques." Lest we forget, there is a band here, not just Charles Dickens with a microphone. The musical epic "The Island: - Come And See - The Landlord's Daughter - You'll Not Feel The Drowning" will remind listeners of the broadly scoping instrumentation of the band. Vocal contributions from former KRS labelmate Laura Veirs on "Yankee Bayonet (I Will Be Home Then)" do not fail to impress.
The despair and classic morose ambience of the past albums remain, but sound snazzier. There's no selling out here. That would require bringing the lyrics into the 21st century and losing the bouzouki (an old-world guitar-like instrument). The Decemberists are still an intelligent, yet accessible, rock group.
It can become quite easy to throw around words like "masterpiece" when one is wowed by the Decemberists' catalog and Meloy's verbiage. It's great to have popular music that displays an increased vocabulary. But the trap is in accepting such music as instantly classic. Worthwhile, for sure, but it's no
Anna Karenina
.