Tickets
are still available for
Death Cab For Cutie
at
DAR Constitution Hall
in DC. They are playing two nights, November 6 and November 7. Both shows are at 8 PM.
As for Justin, he's
touring
large venues in North America (with
Pink
) starting January 8. Tickets go on sale Saturday at 10 AM. He'll be in DC on February 2, at the Verizon Center, and if you can't get enough in the mid-atlantic region, Philly on March 27. And can you believe the JT
fan club
costs $45? Insanity!
As for
Pandora Internet Radio
, new
features
have been added that allow you to mix your various stations together, move songs from one station to another, and, get this, when a song pops up by an artist currently on tour, it will show "on tour", and you can click that and find out where your fave bands are playing and when. It's a partnership with Ticketmaster, so it looks like they have to be selling the tickets for the functionality to operate.
Kerri Kasem, daughter of Casey, will be starting a new gig in daily radio in Vegas. It's who you know. Source:
Radio and Records
Raekwon
of the Wu-Tang Clan will be performing for
FREE
at Sonar in Baltimore, if only you'll RSVP ahead of time. Also comin' thru from the Wu at Sonar, but not for free, will be Method Man on November 9, featuring Inspectah Deck and Masta Killa. Four members of the Clan in a matter of weeks.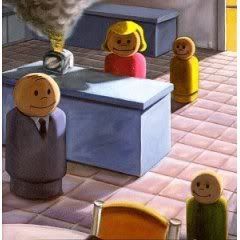 Last Friday, MTV
commented
on the growing love for emo, and showed what Sunny Day Real Estate members are up to. One played on
Dashboard Confessional
EP's, another is a
Foo Fighter
, and the singer has
gone solo
. While the outlook is bad for a reunion, I'd certainly love to see one.
Baltimore indie kids
Beach House
, whose album dropped on Oct. 3 on
Carpark Records
, will be having their record release party on Oct. 31 at the H&H Building (405 West Franklin Street).