As the
New York Times
reports, young adults aren't listening to the radio because there is just cooler stuff to listen to out there. Why listen to the same station play the same 25 songs ten times each per day, when you can plug your MP3 player in and listen to what you want to hear? Or web radio, where you can skip songs that suck or that you are tired of hearing? According to the article, "Listening hours have dropped almost 21 percent for 18- to 24-year-olds in the last 10 years[.]"
Also note the (as-yet) unregulated NetTV world, including the always-fabulous
Tom Green
, who can get away with much more online than he could on TV. It's all going digital, and according to the
LA Times
, NBC knows, because they are laying off "about 1%" of their workforce due to weak TV numbers. All the big entertainment names are acknowledging the lure of digital, including video games, the internet, and iPods.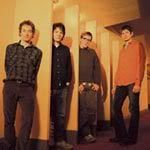 And go see Wilco tonight at the 9:30 Club, or stream it on
NPR
, but don't let Jeff Tweedy
punch you in the face
.
And one more thing. I love metal. But
this
black metal video makes me feel dirty. And somehow, I think my soul has been tainted.
Maynard James Keenan fans out there: the Puscifer
podcast (XML link)
has one of those deep cuts, from the KISS tribute CD
"Kiss My Ass"
, where Maynard sings with a group called Shandi's Addiction (a one-time project with Tom Morello from
Audioslave
on guitar), along with other hard-to-find tracks. Check it out.