Norma Jean
will be in concert tonight at
The Recher Theatre
in Towson, MD, as part of the Radio Rebellion Tour.
MTV News
reports that Lady Sov will be kicking off her North American tour next Monday in Montreal, and will be hitting the 9:30 Club on Saturday, October 28. She's kind of bratty, and she might just be getting schlepped in the US as the next Eminem with a splash of Missy Elliott with her quirky style, but as she would have it, she "sounds weird and funky-fresh." There's something to be said for that.
The New York Post
reports that music sales are still slumping, down 6.1%. What's more, CD sales are down 15% over the first 6 months of 2006. Digital and ringtones are keeping things afloat. Record stores are really suffering out there. Will this generation see the end of the brick-and-mortar record store?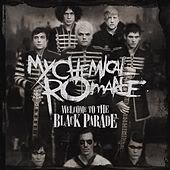 Somewhat suprisingly, at least to me,
My Chemical Romance
's "Welcome To The Black Parade" gets
four stars
from Rolling Stone. Apparently the whole world, or at least Fricke, is a sucker for the Sergeant Pepper look.
If you're into Filter or Stone Temple Pilots, look into
Army Of Anyone
, and your chance for a free
private concert
. Richard Patrick from Filter and Dean DeLeo from STP are busy again.