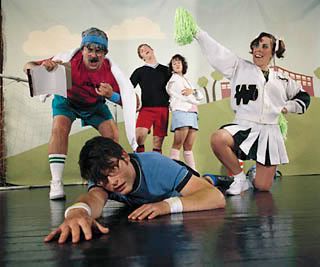 Building its cred with indie kids and at the same time creating middle-aged hipsters, NPR plugs away at 9:30 Club with
streaming audio
of last night's performance by the Decemberists. It's great to get to hear these shows, but I can't help but sense NPR's effort to get younger listeners keen to their programming, so that as age sets in, we start listening to talk radio and throwing out soundbites around the water cooler. Anyway, listen to the show. It's amazingly good. And Colin Meloy owns up to the fact that "you paid your money, and we entertain you." At least he knows who butters his bread.
Over the last couple days, I've been obsessively updating and tagging and perusing
la la
(if you sign up, tell 'em I sent you), and it occurred to me that I can find the obscure stuff that I've been searching for diligently, but not willing to break the bank on, like those guys up there. Yeah, they don't look all that cool in the picture by today's standards, and maybe not even by 1976 standards, but the
Sutherland Brothers & Quiver
made great records. My introduction to them was through my dad who, like me, freely engages in unabashed music snobbery. I learned from the best, as his taste in music really shaped mine. Of all that I'm grateful to dad for, an ear for rock and roll is high on that list. I can remember jamming to
Slipstream
on 8-track, which dad still has, that's how cool he is. I can remember going to the flea market and digging through stacks of vinyl looking for albums with him.
SBQ, as they're affectionately referred to on
the internet fan sites
, had one bona fide hit, "Arms of Mary", which hit #5 on UK charts.
David Gilmour
(yes, Pink Floyd's Gilmour) produced the B-side to that single. But "Sailing" became a #1 hit for Rod Stewart.
Regardless of the lack of incredible commercial success as SBQ, members such as Keith Wood went on to play keyboard for Al Stewart, Tim Renwick has played amazing guitar with amazing groups like Pink Floyd, Mike & The Mechanics, Eric Clapton, David Bowie, and had his own bands, including Wages of Sin and Lazy Racer. Tim Renwick is the utility man of rock guitar, and you can see an incredible bio of him
here
. Drummer Willie Wilson played drums on Pink Floyd's
The Wall
. The Sutherland brothers themselves continue to dabble, Gavin writing books and having made an album in 2000, and Iain composes, but doesn't appear to perform.
The SBQ Discography (Source:
Peel
):
The Sutherland Brothers Band (Island 1972). (Everything after this is with Quiver)
Lifeboat (Island 1972)
Dream Kid (Island 1974)
Beat Of The Street (Island 1974)
Reach For The Sky (Columbia 1975)
Slipstream (Columbia 1976)
Down To Earth (Columbia 1977)
When The Night Comes Down (Columbia 1978)
Now if those of us who are fans can only get the BBC to release those Peel sessions to us.