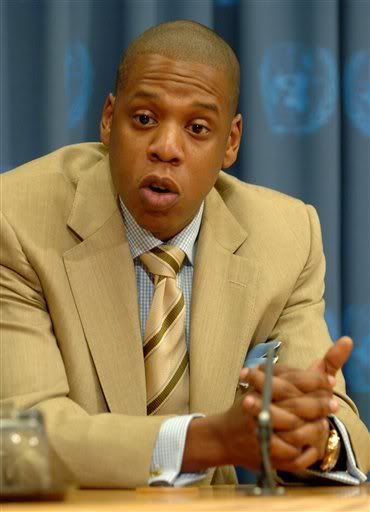 Billboard
reviews Jay-Z's new single, "Show Me What You Got", admitting that it's not the best he can do (clearly), but showing much love for what Clover Hope calls "the mighty horns", which we recognize from "Rump Shaker", and she credits as a Public Enemy sample but is actually and originally Lafayette Afro Rock Band's horn sample, if you wanna get accurate.
On that note, interesting how one day the song leaks on the internet, and the next it's in a Budweiser Select commercial. Hmmm....did the leak cause Jigga to scramble to make a video and release the single, or was the leak all part of the master plan?
Today on
HypeBot
a multi-source blurb on iPod (and portable MP3 technology as a whole) and its effect on the music industry. Is it over for album sales, and the beginning of a whole new world of 99-cent singles?
Keep your eyes on
NPR
for the following live/archived webcasts from 9:30 Club:
10/27 - Sean Lennon
10/30 - The Decemberists
11/03 - Joan Osborne
11/06 - The Black Keys
11/10 - Arlo Guthrie
11/20 - Cat Power
Watch out for Courtney Love's
return
with a new album next year. Linda Perry (formerly of 4 Non-Blondes, now a beloved producer with such works as Xtina's latest). According to Perry, Courtney Love is up there with Bob Dylan in terms of lyricism. Not so sure about that, but she's gotta get paid, so let her trumpet this thing all she wants.