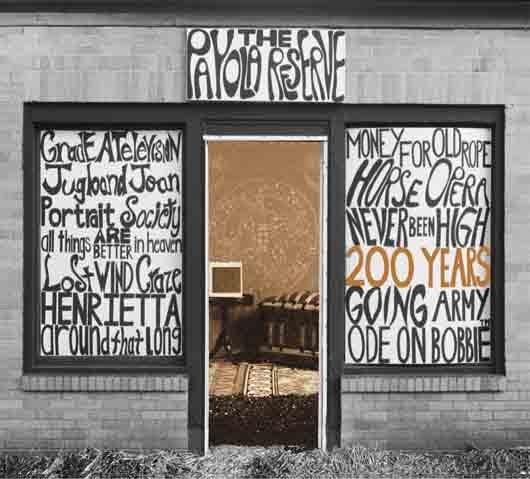 The Payola Reserve
are going to have to indulge me a bit as I waver a bit from standard record review format. I met the Payola Reserve at their practice space/studio (
listen to Episode 5 of Any Given Tuesday to share in the fun
) and these cats were just plain
cool
. I felt like I was hanging out with the rock star heroes I looked up to when I was a kid, except those heroes stayed the same age while I grew up. These guys are just the fruit of a different era (kind of how I view myself). We were all born thirty years too late.
The Payola Reserve just recorded and released (all by themselves . . . take that, hipsters. If I have to listen to one more
Clap Your Hands Say Yeah
reference, I'll lose it) their second album,
200 Years
. This album breaks away from the New Wave-y
One Long Apology
and moves into the beyond cool sound of the early '70s. Again, indulging myself fully, I'm going to make a
Tim Renwick
reference. I have talked about this guitar demigod in the past, who has been a session player for
Pink Floyd
,
Eric Clapton
,
Al Stewart
(Tim played on the LP
Year of the Cat
), and so many other powerful artists. When I hear Al (Pacheco, not Stewart) play guitar on this record, I feel like he's reproducing the tone of '70s guitar icons. On "Henrietta" I am reminded of another band Renwick worked with,
Sutherland Brothers & Quiver
. Renwick played with Quiver, who along with the Sutherland Brothers, recorded five albums, my personal favorite of which was
Slipstream
. My father's prize possession is his 8-track of this album which, to me, is beyond rad. The guitar chops on "Henrietta" are among my favorite of any record I've listened to this year. The Payola Reserve just jam it out on the track, and the rolling toms from drummer Ken Fisher texture this track, with Bryson Dudley keeping down the low end on bass. Ben Pranger's wails on the track have me squeaking out my own singalong with the air guitar, making "Henrietta" a highlight for those who pick up the record.
What I find most compelling about Payola Reserve is that their albums conceptually invoke an era.
200 Years
is a record that compels references to other artists, because the album is a virtual history lesson in rock and roll. Where
Apology
delved into the 80s,
200 Years
moves to the awesomeness of the late '60s and early '70s, digging up a lost
Neil Young
. Maybe even some Neil & Crazy Horse
Everybody Knows This Is Nowhere
material. Perhaps an indication of what's to come, but you'll detect a fleck of Delta Blues in this record, too. You know what I want to hear? Some Mississippi John Hurt. But I'll take the extra jam on "Portrait Society" until then, as well as the conjuring of
Tom Petty
in the vocals for "Going Army", a tongue-in-cheek shout about joining the military that begins with a military-type processional.
The lyrics on
200 Years
are a treat for anyone who considers themself a poet/lyricist because these lyrics are so clever. When "Grade A Television" develops an almost meaningful relationship between a person and her TV and avoids being awkward, that displays a lyrical finesse that I love almost as much as I do the Rhodes piano (which this album employs). If you ever debate the lyricism and songwriting of the Beatles, TPR's Ben Pranger is much more Lennon than McCartney. Listen to "Money For Old Rope" and I challenge you to disagree.
The Payola Reserve, with all their ability and vision, seem to be holding back a bit and restricting themselves to an extent, whether to categorically maintain an "indie" sound or as part of a long-term vision for their plans to let their sound develop over time as they reinterpret and pay homage to sound eras of the past. The album inoffensively and deftly moves from knee-slapping bluegrass ("Jugband Joan") to harmonica-infused ballad ("200 Years") and country twang ("Lost Wind Craze"). The Payola Reserve has a lot of potential for experimenting with their unique influences. They have a sound all their own, comparisons and name-checks aside, and on
200 Years
that sound is starting to steal the spotlight.
Free MP3: The Payola Reserve - "Henrietta"