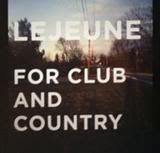 Out of DC,
Lejeune
are an indie-pop quintet who come together like
Voltron
(I just got to make a Voltron
and
a
Wu-Tang Clan
reference in an indie review . . . score!) to combine pop, country twang, new wave, and romance to produce
For Club And Country
, their second full-length.
Blending acoustic and electric guitars with keys and thick bumps and grooves on the low end, the album marks the culmination of a growth period for the band as they expand on their sound and deliver more confident tracks. The post-punk intro on "Spanish" leads into the new-wave
Morrissey
/Michael Stipe intermixed vocal style of Sam Bishop, and Matthew Richardson's guitar leads on "Replaced By Robots" display Lejeune's nascent style that should tear all 'new-wave revival' comparisons asunder. As apparent as the comparisons to acts before them may be, Lejeune's past is not as precious as its present. This is a band that burns brightly on its own.
Purchase
For Club And Country
at
CDBaby
.
Free MP3: Lejeune - "Spanish"