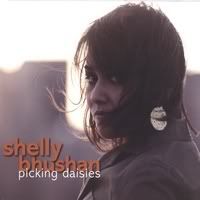 Teeming with the unbridled passion that is the sine qua non of true soul,
Shelly Bhushan
's
Picking Daisies
does its best at projecting the independence and self-assuredness of an archetypical woman ("Beautiful Me") while balancing that with the fragility and folly of human emotion ("It's Over"). Bhushan's bellowing wail is capable of blowing the doors off but is as melodious in a whisper, providing
Picking Daisies
with manifold levels of heartache, rancor, and raucousness. Here is a singer who can instill palpable feeling in a listener just by changing her tone.
With the range that
Daisies
runs, it might be easy for Shelly Bhushan to get away from herself and record a mash of tunes with no logical progression. That is avoided here, ranging from the fretful "Perfect Stranger" to the claim-staking "Beautiful Me", which incorporates a melody invoking a playground taunt in its assured message whisked along with horns and strings. But where
Daisies
manages to keep from unraveling, it sacrifices a certain boldness that this strong crooner could use to her advantage. Sometimes the tracks seem a bit
too
safe. Whether that was a conscious choice to court television and soundtrack placements, this album is inoffensive musically. Audiences of vast tastes will still be charmed by Shelly Bhushan's confidence and sleeve-worn emotion.
With a less-is-more sound approach, Bhushan's backing band conceives funk sounds fused with classic soul, driven further by Bhushan's pop and blues vocals. Some variation in backing vocals would have helped, as the overdubs can sometimes be too much of a good thing.
Key cuts include "Beautiful Me" for the spiteful spirit, "Birthday Suit" and its pop/blues/country amalgam, "It's Over" for the forlorn piano.
Pick up
Picking Daisies
at
CDBaby
.
Free MP3: Shelly Bhushan - "Beautiful Me"