Out came the metal this past Monday at
Merriweather Post Pavilion
in Columbia.
Bleeding Through
,
Slayer
, and
Marilyn Manson
joined forces to conjure up what Bleeding Through's Brandan Schieppati appropriately referred to as "a mother's worst nightmare."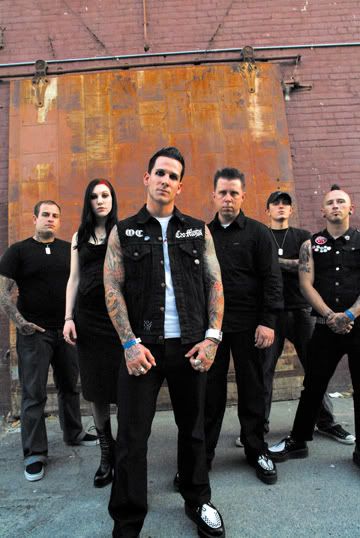 This writer last saw Bleeding Through at Ozzfest 2006, from a slight distance and through a cloud of second stage dust. My #1 showmate and I remember being thoroughly rocked by their set that morning, but on this night we were essentially unmoved. Maybe it was the respectable vantage point, but the band just did not come off as convincing enough. Layers of distortion covered up bland power chords and a vague odor of fear that the audience might find out these hardcore metal kids are from Orange County. Image missteps aside, the band rocked hard enough on tracks like "Love Lost In A Hail of Gunfire", but they simply lack the credibility of
Hatebreed
or their showmates in Slayer. With all that, this band's drummer was a flurry of incredible fills and pounding bass. Definitely the driving force behind the sound of the band.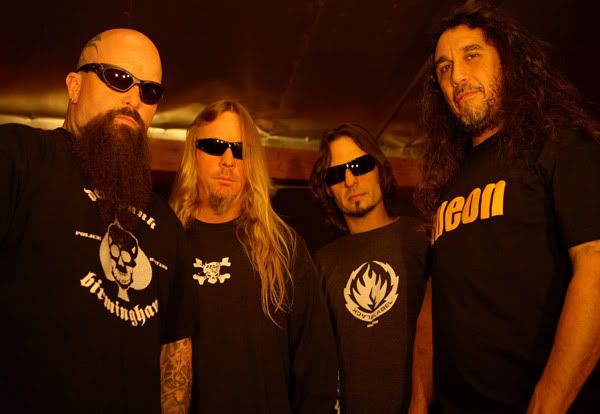 No identity crises for Slayer, however, who have not lost a step since
Reign in Blood
. The alternately dueling and supporting thrash guitars of Jeff Hanneman and Kerry King are, without hesitation, astoundingly ferocious in sound and exquisite in technique. Thrash and speed might be lost on a generation of metal fans, but this tour could breathe new life into the band's fan base, selling a lot of copies of
Christ Illusion
(
read a review of Slayer's latest
) or giving an astounding history lesson in American metal. Opening the dusty coffers to bring out "Mandatory Suicide" and the seminal "Angel of Death" (which really pleased a rabid fan behind me, who I think could not believe someone as nerdy as me was all that into the band) and exploding with current tracks including "Cult" and "Jihad", this was the loudest set I have ever heard (the bass from
Dave Lombardo's dual kick drums was blowing my hair back), and Tom Araya made it nearly communal in his affectionate thanks from the crowd. For a band with such vitriolic lyrics and furious sound, they seemed like pretty nice guys!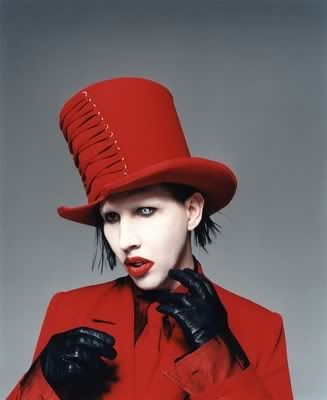 A different story for Manson, who, first of all, took way too long to come out on stage, and proceeded to engage in constant self-love (thanks, Ginger, for that phrase, and for encouraging me to believe that Slayer is
iconic
, not cliche) by sticking his hands in places I shudder to imagine, before wiggling his hands over the crowd in what struck me as the most awful of fluid-swapping experiences for the GA crowd. Regardless of his lack of consideration for sanitation concerns, Marilyn Manson is a top-notch showperson. The stage appears from behind the screen enveloped in fog, with electric candles all over, and an absolute rock star in full regalia, slinking up the stage and crawling before his worshippers. The costume and set changes between songs made the show feel like a rock opera, or at least a pop concert, as giant chairs, pulpits, and other objets d'art mingled into the milieu. Sticking to standards like "The Beautiful People", "Disposable Teens", and the current glam-rocked "Heart-Shaped Glasses", all renditioned fantastically, the back catalog stayed pretty much closed on this night, as only one song from
Portrait of an American Family
comes to memory, left behind for the call-and-response (Irresponsible Hate) anthems of MM's repertoire. Tiring was the penchant for dropping the microphone after every song (don't the sound guys know to turn the mic off as the song ends so we don't have to hear the thud?), but fascinating was the larger-than-life persona of a performer who should give a lot more credit to his band than they currently get. The man-droid poses took the attention off the band's capable performance and cast it upon the conceded star who, love him or hate him, cannot fail to mesmerize and enthrall.