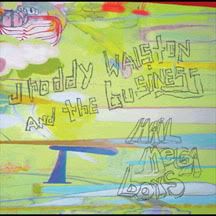 J. Roddy Walston & The Business
are a Baltimore band (by way of Tennessee) who released their first full-length,
Hail Megaboys
(Southern Brethren, distribution through
Morphius Records
), in early March.
First things first, rock and roll doesn't have enough piano. Maybe you've seen
Any Given Tuesday
's
prior explications
on the awesomeness of
Jerry Lee Lewis
(
read a review of The Killer's Last Man Standing
), who, whaddya know, is also from Louisiana. Well, J. Rod & The Biz have been listening. Not only that, each member must have been issued
Queen's Greatest Hits
as required listening upon entry into the group. Hellbilly piano and vocal harmonies rip throughout the record. On the dancehall/barroom cut "Rock and Roll The Second" the keys are the star, Rod's itchy and scratchy voice coming from behind to drive a distinct rock and roll that brews somewhere below the Mason-Dixon. Follow that with "Go For It", favoring guitar attacks over the black-and-whites, "Go For It" is a danceable jam with encouraging lyrics inspiring enough to cause you to dance away your worries and then go out and do something about them!
The real roots rock gets kicked up from the dust on "Sally Bangs", based on a tune Rod's grandmother's family used to share. Twanging guitar (or is that
actually
a banjo?), drums that harken up a washboard percussion sound, anybody with a little bit of country is going to get a bit reminiscent with this one. Speaking of reminiscing and nostalgia, harmonies just short of "Bohemian Rhapsody" burst from the flames of "Nineteen Ought Four", which is loosely derived from Baltimore's own history: the Great Baltimore Fire of 1904 (or, if not based on the Fire itself, on a metaphorical, malevolent desire to raze the town/life and start anew). Even if the song is more of a statement of stagnance in both geography and mentality, it does name-drop our fair city. That counts for something, doesn't it?
See "Stop, Rip and Roll" for the '70s-rock backing vocals and classic-rock guitar that define
Hail Megaboys
, just before falling into the dysphoria of "Go Malachi". The closing track takes an album of tunes that at least
sound
worry-free and untroubled even if the lyrics don't always follow suit and departs on a somber tone, sharing tales of stale marriage and cognizance of one's own lackings in life. While the band's sound is like a teenager with no cognizance of her own mortality, "Go Malachi" and the other less forward-looking tracks like "The Times Are A-Staying" might be a precursor to an evolution in sound and substance for J. Roddy Walston & The Business. Don't let that keep you from enjoying the fast times of
Hail Megaboys
, there's plenty of time to grow up before the band comes out with another record.
Free MP3 Download: J. Roddy Walston and The Business - "Rock and Roll The Second"