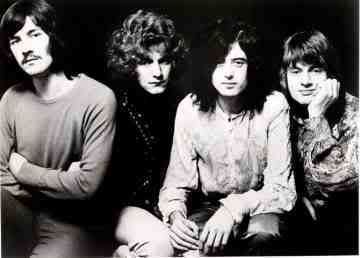 DISCLAIMER: This might be unsubstantiated, and should only be taken at face value. Which, coming from a blog, means a plug nickel. And coming from me, less.
A
Gigwise
report states that we may see a one-off
Led Zeppelin
reunion in honor of the passing of Ahment Ertegun, founder of
Atlantic Records
. As you read this, thousands of Zep fans are re-reading
The Lord of the Rings
to bone up on the obscure lyrical references on the off chance Page and Co. might embark on a world tour.
World tour? Ah, yes! If the one-off London show goes well, the surviving band members (Robert Plant, Jimmy Page, and John Paul Jones. The late John Bonham's son, Jason, will join on drums) are willing to climb the "Stairway to Heaven" as long as the chemistry gets kept from the "Gallows Pole".
Unsubstantiated rumors and lousy puns. Only here, folks. Only here.