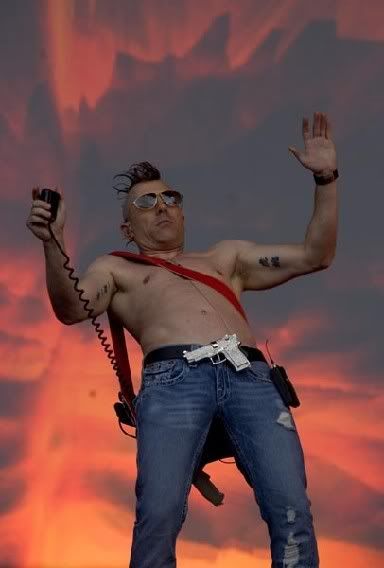 Any Given Tuesday
last caught
Tool
at the
Verizon Center
in DC back in September (
read the review here
). Just as that show was flawless, thus was the case here. And the overall effect of the show was the same, too. The band played plenty of tracks from
10,000 Days
, such as "Jambi", "Wings From Marie Parts 1 & 2", and the show closer, "Vicarious", dedicated in a timely manner to Paris Hilton, as was "Stinkfist" earlier in the show.
The show opener,
Melt Banana
, is a Japanese speed metal band with some electronic noise crossover. As is becoming AGT's trend, we missed the better part of their set and, from what we did hear, the point, too.
Tool entered the stage to much applause, Maynard in a hunter's orange
Puscifer
(a side project for Keenan) hoodie and cowboy hat, with the same mohawk as the last tour. As Tool's set progressed, the overlap from the arena tour became even more obvious. The positioning of the band on the stage was identical to the arena tour, as was the majority of the set list. The standout track was "Flood" from
Undertow
, mainly because it is a bit of a rarity at Tool shows (and where is "Swamp Song"? Can't we hear that one live?).
It is such a pleasure from a technical viewpoint to watch Tool play live. Almost entirely avoiding any interaction with the crowd (except last night for thanking fans for not using their flash photography and making a couple Paris jokes) during the performance, I was transfixed on Adam Jones, Justin Chancellor, and Danny Carey as they expertly did their jobs. Adam and Danny look detached, playing guitar and drums better than almost anyone else I've had the pleasure of seeing live seemingly without effort. Whether their detached look shows because they are lost in their art or collecting a paycheck at this point is hard to say. Only Justin looks like he's really getting into his playing, even doing a little headbanging at times (so remarkably un-Tool, apparently).
The crowd at this particular show was largely a disappointment (at least from where I was standing). Other than one pretty mellow hipster who was giving us a good vibe, we were surrounded by colossal meatheads who commenced to pour their beer on their face like water, before spraying mouthfuls into the air, and girls who danced to metal songs like it was a Grateful Dead show, gyrating and bouncing like Jerry Garcia had just reincarnated into Maynard James Keenan. Can't make this stuff up, folks. I have
never
been to another concert where people behave so ridiculously, not even
Ozzfest
.
All that aside, another great performance by the band. Nothing surprising, though, as all the same tricks were repeated from the last tour, including Maynard's slithering profile pulsating to the beat and the point two-third into the show where the band takes a break and commands the crowd to put up their lighters. If you missed the arena tour, check this tour out. It's a few bucks cheaper, and smaller venues. That's a deal.
Tool plays
Bonnaroo
next weekend. Hippie kids beware, and hold tightly to your beer. Bonnaroo may have never seen a circle pit before.
Setlist for the show:
Jambi
Stinkfist
Forty-Six & 2
Schism
Rosetta Stoned
Flood
Wings 1+2
Lateralus
Vicarious