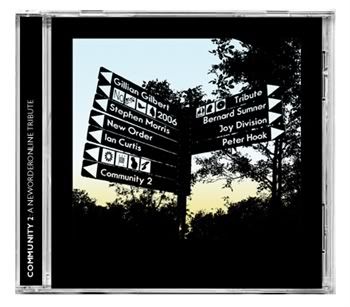 Fans of New Order
and Joy Division are not only rabid, but inventive. They make biopics about Ian Curtis. They make (the focus of this review) cover albums. And they do it well.
On
Community 2: A NewOrderOnline Tribute
(a project of the NO/JD fan club,
www.neworderonline.com"
), fans enlisted in a competition by submitting their covers of various New Order songs to be handpicked by Peter Hook himself for inclusion on the album. Who better than Hooky to decide who covers his work the best, right?
Of course you'r thinking, "Another covers album? So what?" This album is set apart because, like any tribute album, it contains obvious tracks like "Blue Monday" and "Subculture" but has plenty of deep cuts such as "New Dawn Fades" and "No Love Lost" in its seventeen-song repertoire. Further setting this compilation apart is that the songs are contributed by fans in the truest sense: people who like the band enough to cover them without being offered a check by their label to record an obligatory cover for a compilation album (e.g.,
If I Were a Carpenter
,
Encomium: A Tribute to Led Zeppelin
; both good, but obviously timed just right with the right bands).
Community 2
is an album that shows the influence this monumental group has had across the world and across a span of decades. More than that, it shows that a famously plagued band understands and appreciates its fans. Artists from the UK to Finland to New Jersey and back came together to pay tribute to New Order, and they did so in a way no slickly produced, label-made tribute album could do. You don't see Led Zeppelin getting down with fan club-created tribute albums.
Choice tracks: "Ruined In A Day" performed by
Sunrise Before Dawn
, "Turn" performed by
Glasnost
, "ICB" performed by
C Bentley
.
Purchase Community 2 from NewOrderOnline.com
, and support the New Order/Joy Division fan community.