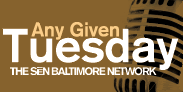 Following up on the first podcast with
Thrushes
(and trying to keep the show coming out on Tuesdays), the second episode is a radio-show format with tracks from
Salim
(
read a review of Salim's album here
),
Brian Adam Ant
(read a review of
Separation Celebration
here), and
Pontiak
. The podcast is produced in collaboration with
SEN Baltimore
.
Song List:
Salim - "Stresses of the City" from the album Hip Hop Revisited
Brian Adam Ant - "Our Artillery" from the album Separation Celebration
Pontiak - "Sun on Sun" from the forthcoming Sun on Sun
Visit SEN Baltimore to check out Episode 2 of Any Given Tuesday
Read AGT's review of
Pontiak's current album, Valley of the Cats
. Pontiak's
Sun on Sun
comes out in September. Expect a review of that soon.