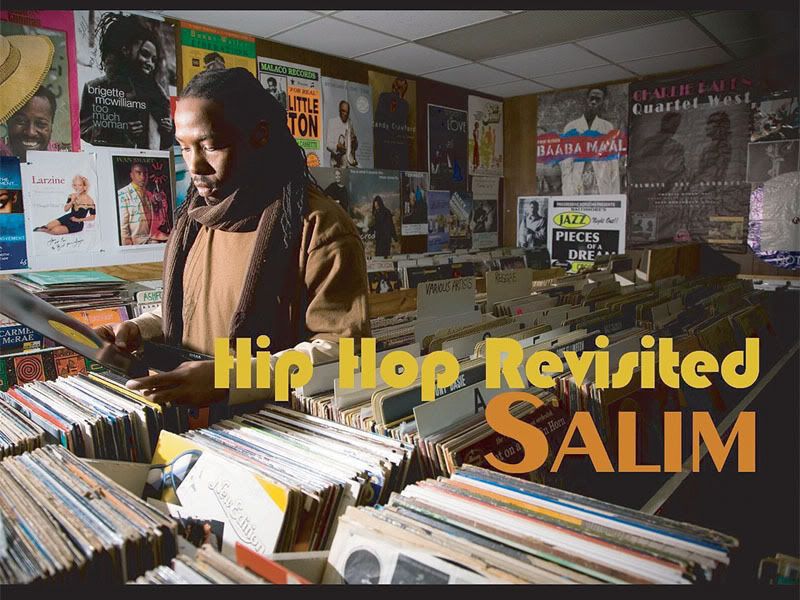 Salim
hails from Baltimore, and if we let him, he can be someone to show the rest of the country that Baltimore isn't just the crime seen on
The Wire
and that hip hop isn't just pompous flossing. While mainstream hip-hop is bloated with ice and SUVs, there is a subset of rap with great flow, great lyrics, and without the obsessing over shiny things. Don't get a hipster like me wrong, I like mainstream hip-hop as much as the next, but like many die-hard music fans, I need my hip-hop to have some more substance.
Take, for example, "Stresses of the City" from Salim's
Hip Hop Revisited
. An urban anthem with fiercely in-your-face flow, inspired by the mixed blight and majesty of Baltimore's southwest. With a voice and a message reminiscent of
Talib Kweli
(and maybe, just maybe a bit of Phife from Tribe), Salim eschews the glamorization of stereotyped hood life to open up a new window into the life of West Baltimore. Instead of a world often painted as without hope, "Stresses" speaks of a dichotomy of a less-than-perfect existence with perfectly normal and admirable ambitions. As the suburban teenager is not just a kid on a cul-de-sac with skateboard under foot but has dreams of becoming an artist or an accountant, the city youth is more than baggy pants and headphones and dreams of the same thing. Salim wants to bridge the gap: we all struggle, we all strive, no matter what our world looks like.
Taking it down-tempo on "Hip-Hop Glory",
Hip Hop Revisited
shouts out to those who came before as well as contemporaries like Pharoahe Monch and Mos Def, reminiscing on the halcyon days of hip-hop. "Untitled" is Salim's vision of life in Baltimore, capably backed with vocals by Green Tea.
But the album is not just about lyrics.
Hip Hop Revisited
is full of beats that should make
Swizz Beats
jealous (not to mention a flow that, in a perfect world, would silence Diddy, too). Producers The Last Skeptik and Sin*seer are just the kind of beatmakers that I picture in Baltimore, a wicked studio in a rowhouse basement cooking up sick beats.
This album features lots of collaborations, with the above producers, as well as Theory (and, to give credit where credit is due, Salim produces some of his own, too). Singers Green Tea and Brianne Hemphill, turntabling by DJ Spontaneous, and appearances from Salim's band The Music Lovers also add to the reverie created by the album. But there's no fanfare in the cavalcade of guests. The cast of this album appear for the sake of the music.
Hip Hop Revisited
could also be called
Hip Hop Revised
. A welcome reprieve from slick beats with no substantive rhyme,
Revisited
also avoids the unfortunate problem of many political/philosophical rappers who are cursed with mediocre tracks to lay their heavy rhymes on. The album is solid both in sound and substance.
You can purchase the album from Salim at his website.
Free MP3 Download: Salim - "Stresses of the City"