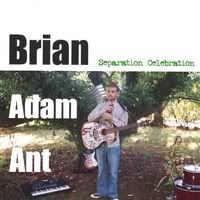 Brian Adam Ant
is Baltimore's answer to Jeff Mangum, AKA
Neutral Milk Hotel
. Obtuse lyrics bordering on psychedelic, warbling vocals, and hypnotic instrument experimentation blending folk, blues, indie, and alternative sounds, Brian Adam Ant is either going to strike you as utterly deranged or fanatically dedicated to musical revolution.
"Rainy Winter Weather" is a guitar-strumming blues track, dismissing love as a "rat race baby, and there ain't no f****** prize." The track forces humor with hieroglyphic lyrics sung over jaunty guitar with a quavering voice. The hallucinatory lyrics of "Our Artillery" can be sung along to, while "Crushed Up Pills" is an apparent reinterpretation of
Pink Floyd
's "Comfortably Numb", with a monotone, underwater vocal effect and a chorus that screams David Gilmour.
On "The Other Side of the Street", over a reverberating guitar, Brian Adam Ant appears to be singing about unrequited love. Love gone bad is a recurring theme in the album, muddled in tales of a chemically dependent hero who could be quite picaresque after a bout with detox (which it appears our hero is undergoing, according to his MySpace blog).
Separation Celebration
is the first solo album from Brian, who also plays bass in Baltimore alt-rock outfit Evolve, as well as the
Dirty Marmaduke Flute Squad
, another uniquely "Baltimore" project.
Catch Brian Adam Ant with Private Eleanor (read Any Given Tuesday's
review of Sweethearting
, their latest) and Wailing Wall at
Lo-Fi Social Club
in Baltimore May 31.
Buy the album from
CD Baby
, or at Sound Garden in Fells Point or Atomic Books in Hampden.
Free MP3 Downloads from
Separation Celebration
:
Brian Adam Ant - "Rainy Winter Weather"
Brian Adam Ant - "Our Artillery"