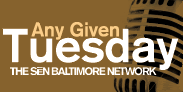 Be sure to check out the first Any Given Tuesday podcast in collaboration with SEN Baltimore tonight at 9:30 Eastern with Thrushes!
Click here for more details
.
**UPDATE**: The podcast was a great time. We did have some technical difficulties, but Mike at SEN Baltimore is going to load up a better recording for download tomorrow. I'll get the link up as soon as I can. Thanks to Thrushes for participating!