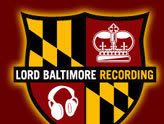 Lord Baltimore Recording
, home of
Thrushes
and
WZT Hearts
, is about to celebrate its Grand Opening! And what better way to do so than with an awesome party? Sets from
Baby Aspirin
, Thrushes,
The Death Set
, and one more band TBA, not to mention free food! The sets will all be recorded live, so your screaming voice will make itself part of the permanent record of the event.
If you are interested in attending this FREE event, print this page and bring it to the event as your invitation to ensure priority access. And shoot me an
email
(blawk359 at gmail dot com) or leave a comment so I know to say hello to you there!
What: Lord Baltimore Grand Opening w/ live music and free food
When: Saturday, June 16 at 5:30 PM
Where: 100 E. 23rd Street, Baltimore, MD (Home of Lord Baltimore Recording)
Cost: FREE (if you print this page and bring it as your invitation to make sure you get in)