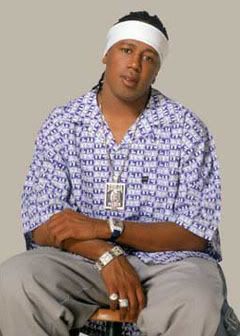 May the hip-hop community rain down fire upon me, but I've always been a fan of
Master P
and No Limit Records. While P's rapping skills were suspect at pest (like most hip-hop producers cum rappers, like
Diddy
,
Kanye West
, etc.), I was all about
Ghetto D
(click to check out the 10th anniversary edition of the album that put the dirty south on the map). The late 90's label put out all kinds of good records, and in its heyday with Silkk The Shocker, P, Mystikal, and Soulja Slim all churning out tracks at the same time, I could not spend money fast enough.
So it interests me to hear that P is going to introduce a new label (amidst all the hype about hip-hop eliminating offensive lyrics) that is entirely profanity-free. The label will be called
Take A Stand Records
, and P says, ""I can honestly say that I was once part of the problem and now it's time to be part of the solution. I am ready to take a stand by cleaning up my music and follow my son's [Lil Romeo] footsteps and make a clean rap album." P and Romeo are co-founding the label as a father/son venture, and are looking for talent via
AmericasNextHipHopStars.com
.
The label's first release, however, will be an LP with both Master P and Lil Romeo called
Hip-Hop History
.
Source:
AllHip-Hop.com