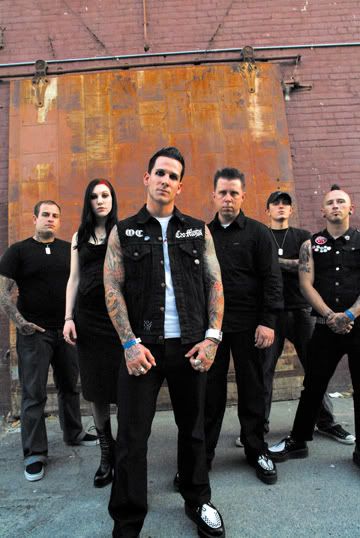 After reporting the
tour dates for Slayer & Marilyn Manson Monday
, I learned that
Bleeding Through
will be joining the tour as an opener.
"I can't say how excited we are about this tour," said singer Brandan
Schieppati."These are two bands that we have all loved for years,
with really diverse fans. Our band certainly draws a little from both
sides of the line."
"Slayer is a huge influence on all of us," commented guitarist Brian
Leppke, who is wearing a
Slayer
t-shirt in the promo photos for the
band's 2003 breakthrough album,
This Is Love, This Is Murderous
.
The band's keyboard player, Marta, will be featured on the cover of
Revolver's next issue, which hits stands later this month. Also featured is Christina Scabbia of
Lacuna Coil
. I'm a little bit let down with the blatant sexism of a magazine featuring the "hottest chicks" in metal. After many years, women are still being judged by their appearance as well as (and often in spite of) their talent. Would
Evanescence
be as successful if Amy Lee weren't such a looker? (And would Ms. Lee be able to cause two members
to "part ways"
without their intending to part?)