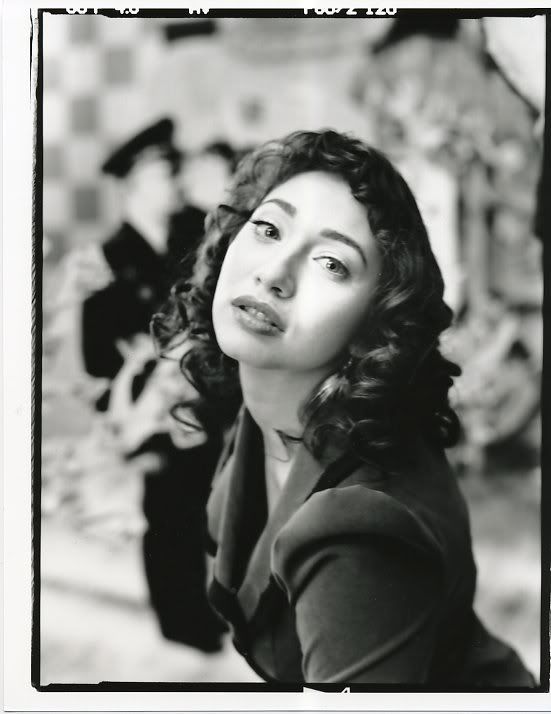 4 out of 5 stars.
The things one goes through to see a small venue show. It's not a particular surprise to see a burgeoning artist and rising star like Regina Spektor in a small venue, but she's close to packing some bigger places than
Sonar
, and the problems coming with the venue remain: long lines in the cold, lots of stamps on your hand (Kristen forgot her ID, and I wasn't drinking, anyway), and parking lots with an army of vagrants ready to protect your automobile for a price. When we cram into these tiny spaces, I always leave the camera at home for fear of it getting smashed between me and some hipster (anyone have photos and want to share?).
The opening artist,
Only Son
(also on
MySpace
), AKA Jack Dishel, did his set with an iPod for a band and an acoustic guitar in his arms. Quite talkative, with a good sense of humor, and Kristen commented "come on, you'd let your daughter date a guy like that." I'm not sure what that means, and we don't have a daughter, but the set was good. The single "My Museum" as well as "The Captain's Dead At The Controls" were highlights. His rapport with the crowd develops quickly, with self-deprecating humor and subtle cracks between songs.
Following the respectable opening act, there was a long wait before Regina arrived on stage. Too long. Does she sleep until 8:45 every night? Is that why even a Sunday show doesn't start until after 9? Regardless, she steps upon the stage wearing a tutu and begins with an a capella rendition of "Eight Miles High" with finger-tapping-microphone percussion. It is at this point, with no instruments to support her, that you realize Regina Spektor's voice is, in a word, remarkable. Most comfortably falsetto, but quirkily reaching into baritone.
Playing current staples such as "Fidelity", "Better", "Samson", and "Hotel Song" ropes in the most crowd participation, but
Soviet Kitsch
material such as the Patti Smith-quoting "Poor Little Rich Boy" with its drumstick-and-chair-seat percussion, as well as "Your Honor" and "Ghost of Corporate Future" also please Regina's audience. The live rendition of "Apres Moi" with Spektor's native Russian verse is hauntingly beautiful, and the broad vocal range in "Field Below" almost reduces the listener to tears with its soulful brooding. Fortunately, when Regina straps on a mint-colored 6-string for "That Time", all you can do is smile and enjoy.
Spektor is a fantastic musician. She can play a piano expertly, but her vocal capabilities far overshadow her finger work. Her voice never falters, never indicates an error the whole night. And her backing band adds a live intensity that could not exist with just one person.
Between songs, the "I love you, Regina!" shouts get old (and, on this particular night, the requests for "Little Boxes", not even her song; Pete Seeger is the only singer I can come up with), and she appears to ignore them (finally telling the requesting party that she doesn't even know the song, and offering an apology in the form of "I suck like that"), graciously accepting the applause with "thank you so much" after every song. Yet, somehow, her thankfulness remains sincere. And she takes offense to those who would be raucous during her set, telling one screaming juvenile to "get the **** out" and then retracting with an offer for that same person to "go the bar, and tell them Regina is buying you a drink." Unlike some artists with a modest catalog of material, Spektor's set lasts well into the night, ending about two hours after it began, including encore.