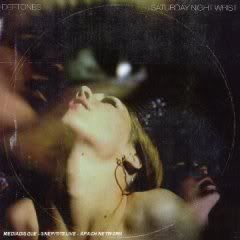 Click the picture to purchase this album from Amazon.
4 out of 5 stars.
The
Deftones
are the sole survivors of the nu-metal movement. That is to say, they are the only band that didn't suck that remained intact. However, the last couple years were close to destruction for the Deftones, who almost fired their singer during the process of making
Saturday Night Wrist
. For production, the band chose Bob Ezrin, whose prior work includes Alice Cooper and Pink Floyd.
The first single from
Saturday Night Wrist
, "Hole In The Earth", displays Chino Moreno's moaning, melodic vocals formidably, with a constant hi-hat from Abe Cunningham leading through the verse, driving into crashing cymbals to the chorus. "Rapture" is an aggressive follow-up, full of screaming and driving guitar from Stephen Carpenter. "Beware" takes it down to a soundscape of climbing keyboards (from Frank Delgado, who works with Moreno on the side project Team Sleep), and clocks in at exactly six minutes of complex rock with broad-scaping, sweeping guitar work.
"U,U,D,D,L,R,L,R,A,B,Select,Start" will strike those who came of age in the '80s as the classic
Konami code
(the song title actually transposes the 'B' and 'A'. As a geeky aside, the code is most popular for giving the player 30 lives in the NES game
Contra
, and the 'Select' button made it a 2-player game. Yeah! The track is an instrumental offering.
"Rats! Rats! Rats!" returns to the hard sound, and Carpenter's guitar in the bridge is unreal. Fans of the earlier Deftones material will like this and "Xerxes".
Track 9, "Pink Cellphone", featuring Annie Hardy of
Giant Drag
, is the standard 'bizarre' track, featuring a monologue on sexual behavior. The programming by Delgado makes the track worthwhile.
Saturday Night Wrist
is proof that the Deftones are one of the most original bands in metal, willing to experiment and expand the genre, while maintaining the integrity of their distinct sound. Moreno's lyrical complexity has always been one of the most appealing characteristics of the band, and reaches its apex on the latest offering. The band's growth is obvious, and this album is much more cohesive than the previous one.
This album could very well have been the death knell for the Deftones, after the last album failed to impress. But the band outdoes itself, beating
White Pony
, and pushing the envelope for progressive metal.