This morning, I dusted off an old album that I hadn't listened to in about 5 years. In honor of this rediscovered beauty: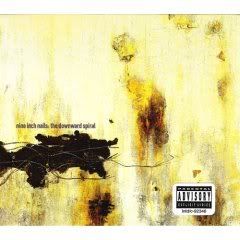 Nine Inch Nails - The Downward Spiral4.5 out of 5 stars.
With more layers (sonically and poetically) than a Taco Bell 7-layer burrito,
The Downward Spiral
became a nihilist soundtrack with its concept tale of one man's downward spiral after rejecting the (Puritanical) notions of religion, higher power, and morality in favor of self-destructive and ultimately suicidal behavior. The album is also an examination of the struggle for control, touching upon a highly existential concept of control (or the lack thereof) over one's own fate, as well as control over other individuals, whether in the notion of sadist over masochist, or more intriguingly, vice versa.
Downward Spiral
uses copious sampling and instrumentation in making a pop-saturated industrial rock record. What makes NIN so different from contemporaries like Ministry and peers like Einsturzende Neubauten is that Trent Reznor utilizes hooks and grooves to make the record accessible while still Groundbreakingly technical, and yet disingenuous in its effort to remain gritty and lo-fi.
The raging drum sampling on "March Of The Pigs", a tale of pigs being led to slaughter, gives way to one of Reznor's tell-tale hooks, via piano, that turn a headbanging rock riot into a crowd-swaying pop ballad, while "Heresy" memorializes his curdling screams about the death of religion ("Your God is dead, and no one cares")in his character's eyes. Juxtaposing the screams are the razor-sharp whispers in the now-infamous track "Closer" about copulating like animals. Musically, "Reptile" is the most impressive with the machine sampling and dense mixing, "Ruiner" is incongruously delicate and features masterpiece chord progression, while "Eraser" makes the listener's teeth rattle with annoyance before the crescendo ends with a song of desperation and self-loathing. And the unforgettable "Hurt" slowly and melodically releases the character into the ethereal realm of the feeling of non-existence, begging for the ability to feel again.
From near-silence to near glass-shattering in decibel level,
Spiral
, in its distortion-filled sludge, is alternatively bitter and cathartic, on the surface hopeless yet demonstrating emotive release in the scathing criticisms and analyses of the album's concepts.
Skyrocketing Trent Reznor onto the pedestal of rock stardom,
The Downward Spiral
will have an impact on rock music for years to come, and rightfully so.