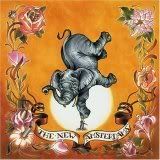 On the latest from
The New Amsterdams
, primary element Matt Pryor (formerly of the Get Up Kids) continues to wow with his adeptness at formulating instantly lovable indie pop songs with a keen mind for lyrical content. Being the third album from The New Amsterdams in two years, not to mention a children's album released by Pryor in the same time period, it is notable that the material hasn't become tiresome or stale.
Opening up with a lo-fi acoustic burner ("Revenge"),
At The Foot Of My Rival
(
Curb Appeal
, click the album art above to purchase) quickly turns into an eclectic amalgam of indie rock and pop, with solo acoustics and full-band songs with string and horn The charged "Without A Sound (Eleanor)" is packed with sound and imploding lovers, whereas "Hughes" keeps it lean and "Beacon In Beige" opens up the throttle again with electric guitars, effects pedals, and a band.
Catch The New Amstersdams at
The Rock and Roll Hotel
in DC on October 18.