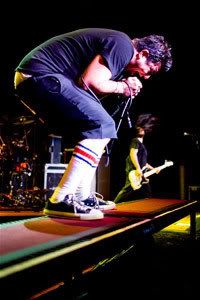 Three out of five stars.
On this cold night in December, the Deftones decided to round out their fall tour in support of
Saturday Night Wrist
with their DC area fans, and did so with the support of glam-goth rock group
Deadsy
, who also participated in this summer's Family Values Tour with Korn and the Deftones.
As the lights went down, an ominous tune from "A Clockwork Orange" came forth, and Deadsy took the stage with matching black military shirts and complementing makeup. Stage presence was solid, with lots of feedback, frantic guitar swinging, and even the bass player's jump down to the crowd towards the end of the set, and pretty much burying his face into a sea of hands. Musically speaking, however, not much can be offered. The singer requires an effect on his voice at all times, the first sign of a singer who is unsure of himself. And the best song the band had to offer was a cover of Rush's "Tom Sawyer".
The Deftones are a studio band. Chino Moreno cannot recreate his vocal parts on a live stage. He gives it the requisite effort, however, but some of the clutch parts on the albums sound more like the high notes of a whale song than a scream. Pulling out a wealth of older material, including closing the set with "7 Words" from
Adrenaline
, the band's debut album, is a definite crowd-pleaser. A tour in support of
Saturday Night Wrist
ends with a show where the songs from that album selected for performance, including "Hole In The Earth", "Rats!Rats!Rats!", and "Beware", are performed as if the band wrote the songs years ago. Other standouts include "Bored" from
Adrenaline
and "My Own Summer (Shove It)" from
Around The Fur
.
Fans of "tight" shows that recreate studio performances will not be satisfied by the Deftones, simply for Chino's vocals. Musically, the performance is, indeed, tight. And, at times, it is surprisingly so, with guitar landscapes that sound as good in person as they do in the car or in the dorm room. But the band puts on a live show with real energy, plenty of material from each album, and never loses momentum throughout the night.