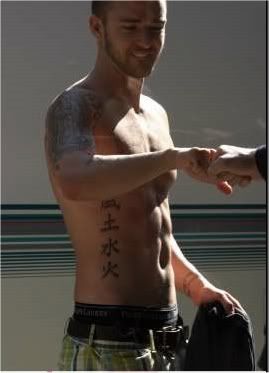 Last night, Justin Timberlake hosted Saturday Night Live. This is his second time as host, and he is hilarious. Among other things, there was an Omeletteville sequel, a Barry Gibb talk show sequel, a viral video with Andy Samberg, and performances of "My Love" (as introduced by JT's girlfriend, Cameron Diaz) and "What Goes Around". The latter performance was the better of the two, with Justin really hammering away at the piano. Go look it up on YouTube, if it's not illegal yet. And he has a movie coming out on January 12,
Alpha Dog
. As you can see above, he's all inked up for it, too. This one better beat that
Edison Force
movie with LL Cool J and Morgan Freeman. That isht was whack.