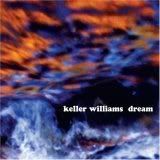 Last week, the Virginian
Keller Williams
released his ninth studio album,
Dream
. The album is aptly named, being Keller's "dream album" in which he collaborates with a veritable who's-who of talented artists (most of whom frequent the jam-band scene and the jam festivals), including
Bela Fleck
,
Bobby Read
,
Bob Weir
(formerly of The Grateful Dead, now with RatDog),
Charlie Hunter
,
Derrek Phillips
,
Fareed Haque
(Garaj Majal), Fleming McWilliams (of Fleming & John),
Jeff Sipe
,
John Molo
,
John Scofield
,
Martin Sexton
,
Michael Franti
(Spearhead),
ModeReko
,
Samir Chatterjee
,
Sanjay Mishra
,
Steve Kimock
,
The String Cheese Incident
, and
Victor Wooten
(Bela Fleck & The Flecktones). Usually operating as a one-man band, this is a departure for Williams, 16 tracks of eclecticism, with a vast array of instruments and styles.
The lead-off track "Play This" is a tongue-in-cheek take, intended to mix Keller's sound with that of rock radio, with distorted vocals and a lyrical mockery of the pop rock formula. "Cadillac" with Bob Weir is very much like a Dead track, written by Williams with Weir in mind and sung about a surreal ride with Buddha, Krishna, Santa and Jesus as passengers. "Life" is a half plugged-in track with talk box guitar courtesy of Jeff Covert and Keller on slide bass and theremin. "Sing For My Dinner" brings in The String Cheese Incident, with whom Keller has a long-standing relationship, and is one of the better tracks on the album instrumentally, behind perhaps only "Twinkle" with spot-on drumming from John Molo and freewheeling guitar from Steve Kimock. Perhaps the most mesmerizing on the album, "Twinkle" is an instrumental track that capsulizes an improv jam that one would expect to hear at a weekend festival. "Lil' Sexy Blues", another instrumental, employs a bluesy guitar along with the entrancing sound of tablas, creating a unique down-home yet Eastern jam.
"Restraint" is the only solo Keller Williams track on the album, a humorous jaunt about jumping bones. But a song like "Got No Feathers" makes you say "
That's
John Scofield" after about eight seconds, and displays the real breath of brilliance behind
Dream
. Unlike recent albums by Santana, Buddy Guy, and Jerry Lee Lewis, all amazing and iconic musicians in their own right, here Keller Williams brings in his heroes to play with him. The older artists are bringing in the currently-hot artists (Rob Thomas, really, Carlos?) to reach the popular audience, but Keller is paying homage to the icons, often taking a back seat to allow their magic to take over.
Rating: 3.5 out of 5 stars.
Visit
Keller's website
to listen to a podcast in his own words (and that of his guests) about the record. And click the album art to purchase at Amazon.