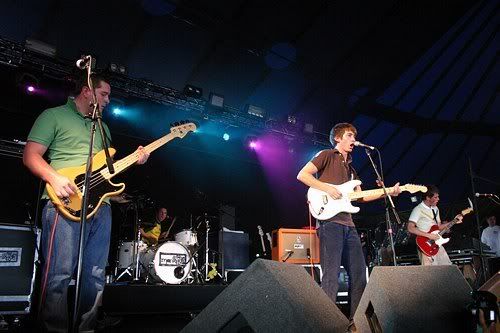 The
Arctic Monkeys
have finished their sophomore album,
Favourite Worst Nightmare
, and have scheduled a US release date of April 24 (April 23 everywhere else). The first single, "Brainstorm", will drop April 16.
"It's quite a bit heavier in some places -- there's also some really nice songs on there," producer James Ford tells
Billboard.com
of the new album. "Some of the songs maybe [have] more depth to them. [It's] maybe not quite as instant as the first one."
Does that mean the album will clock in at longer than 28 minutes? Or will this be another shorter-than-your-lunchbreak barnstormer?
The tracklisting for
Favourite Worst Nightmare
:
"Brainstorm"
"Teddy Picker"
"D Is for Dangerous"
"Balaclava"
"Fluorescent Adolescent"
"Only Ones Who Know"
"Do Me a Favour"
"This House Is a Circus"
"If You Were There, Beware"
"The Bad Thing"
"Old Yellow Bricks"
"505"