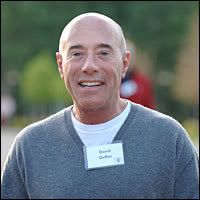 It's old news now, but it's still funny:
David Geffen
Geffen Records
, co-founder of
Dreamworks SKG
) has been unhappy with Bill Clinton since Clinton refused to pardon
Leonard Peltier
but did grant a pardon to white-collar criminal financier Marc Rich. Now Gef is getting
personal
, saying that Hillary Clinton is "the easiest to beat" of the Democratic candidates for President in 2008 and calling Hillary out for refusing to say she made a mistake on voting for war in Iraq.
Hillary has stated "My vote was a sincere vote based on the facts and assurances that I had at the time," Clinton said. "And I have taken responsibility for my votes and I believe that none of us should get a free pass. It is us up to the voters to judge what each of us has said and done."
The Clinton campaign is asking Barack Obama to return David Geffen's $2,300.00 contribution to his campaign, saying "his campaign embraces the politics of trash." Looks like Hilly Clint is slinging the mud!