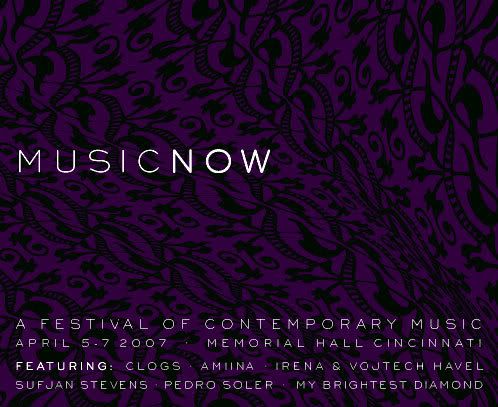 After a successful first year in 2006, the
Music Now
festival returns to Cincinnati this April 5-7. Curated by Cincinnati-born musician Bryce Dessner, guitarist of rock band The National and the instrumental band Clogs, the Music Now Festival will present musicians from around the world, ranging from rock, experimental, contemporary classical and world music in a three-day event at the exquisite Memorial Hall in Cincinnati's historic Over-the-Rhine neighborhood.
Festival highlights include a small theater acoustic performance by
Sufjan Stevens
(appearing with string quartet), a double-bill with Icelandic string quartet
Amiina
(best known as frequent collaborators of
Sigur Ros
) and indie-songstress
My Brightest Diamond
, and the US debuts of renowned flamenco guitarist Pedro Soler, and the haunting experimental Czech duo of
Vojtech and Irena Havel
. The Festival will kick off with a marathon-style concert featuring a solo performance by Soler, world premieres of string quartets by Sufjan Stevens and Maria Sigfúsdóttir of Amiina, and a collaborative set by
Clogs
featuring many of the festival performers.