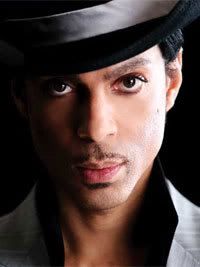 Did you catch that 12-minute mind-blow called the Halftime Show last night? With renditions of "Let's Go Crazy", "Baby I'm A Star", "Proud Mary" (the Ike & Tina Turner version of the Creedence Clearwater Revival song), "All Along The Watchtower" (the
Jimi Hendrix
version of the
Bob Dylan
song), "Best Of You" (
Foo Fighters
), and "Purple Rain" (fittingly played outside in the rain,
Prince
wowed everyone, much more than the almost entirely lousy commercials did (I won't speak as to the game, since I know nothing of football). And it is an amazing thing when Prince can take
anybody's
song and play it better than they can (not a surprise with Dylan, whose songs are always better when played by other artists. Try
Rage Against The Machine
's version of "Maggie's Farm").
I'm still upset with the man in purple for telling me he was retiring to be a Jehovah's witness and then backtracking, but it's a good kind of upset, because otherwise I would not have been able to see him shred like that ever again!
The only downside to Prince is that he is no longer the avant-garde, risque character he was back in 1984. The
Baltimore Sun
has an interesting story on how Prince has evolved into a "safe" choice for the halftime show. No more "Gett Off" or "P Control" from him, but I'll settle for amazing live performances of the safe ones if that's all he's giving.