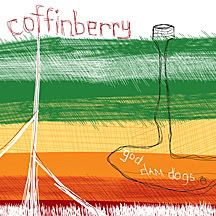 From Lakewood, Ohio,
Coffinberry
make rock and roll. And it is pretty good rock and roll. It's the kind of rock and roll we would have heard at
Lollapalooza
's side stage in 1994. Controlled use of effects and feedback in the guitars, and vocals that remind me of
Cop Shoot Cop
's Tod A., but maybe an octave or so higher. Unlike the band I refer to, which wrote dense songs with thick bass and a heavier bent, Coffinberry writes songs (mostly clocking in at just over two minutes) that have a pop sensibility. "Sonogram" is a good sample, a dissonant guitar tune, abruptly short, but absurdly enjoyable.
The track that opens the album, "Packrat/Survivalist", kicks it off with a power chord riff and introduces an album that is in its entirety rock-radio friendly. "Freeway Ends" is a screamer track with
Superchunk
guitar and drums and blissfully jagged vocals, reviving a sound that has been long missing from the rock scene.
If you're a fan of short, simple, infectious alternative rock, Coffinberry is what you've been waiting for. The songs are catchy, aggressive, and do away with the overdone masking of using production to hide a lack of musicianship. With
God Dam Dogs
, Coffinberry has given alt-rock fans honest-to-goodness music with no pretentiousness.
Free MP3 Download:
"Freeway Ends"
God Dam Dogs
is available from
Morphius Records
.