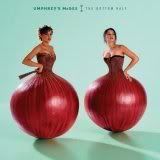 Yesterday,
Umphrey's McGee
released
The Bottom Half
, a follow up to the group's 2006 studio release
Safety in Numbers
. Titled
The Bottom Half
, disc one features ten tracks that did not make the final cut (this works kind of like
Ghostface
's
More Fish
, in that there was too much good stuff on the cutting room floor, meriting a sequel of sorts), while disc two offers outtakes, alternate versions, and other happenings from the studio sessions.
The Bottom Half
takes a different position than
Safety In Numbers
(both of which have wicked artwork by
Storm Thorgerson
), featuring massive instrumental tracks ("Atmosfarag", an apparent play on percussionist Andy Farag's last name; "Great American", featuring
Bela Fleck
), studio cuts of tracks that have been played live for a number of years and just now put to tape, and two bonus tracks ("Memories of Home", "Divisions") from the vinyl pressing of
Safety In Numbers
.
The Bottom Half
comes out as more experimental and more intimate than
Safety
. The first disc is, in essence, the second half of
Safety
, a collection of tracks that old fans of Umphrey's McGee will recognize from live shows as well as some gems from the cutting room.
The second disc is the fans' invitation into the studio to get a true insight into the song-writing process, from a capella takes to song snippets to chatter amongst the band members as they iron out the songs that would become
Safety In Numbers
and disc one of
The Bottom Half
. The disc will also serve as an introduction of a few new songs that will make their way into live performances.
Bottom Half
is more traditional of Umphrey's McGee than was
Safety
, with more of the jam sound than popular music formula. As the previous studio release was calculated to reach a broader audience with format-friendly three-minute songs, the current release really delivers on what made Umphrey's McGee known: the atmospheric jams that continue developing over time as the band matures. What makes
TBH
different from the past is that several of these songs have been heard live for a long time, and are just now being pressed to disc, rather than being heard live contemporaneously with a studio release.
Fans of Umphrey's since their South Bend days and newer fans alike will enjoy
TBH
, as it covers the bases of jam-band sound and verse-chorus-verse formula better than the last album.
Stream select cuts from The Bottom Half
, or click the album art above to buy.
Thanks to
Sci Fidelity
for the copy of the album. Also, coming from Sci Fidelity on April 17:
The Greyboy Allstars
'
What Happened to TV?
. I will try to get a review of that one up before the release date (which I was not able to do with Umphrey's McGee, but that was a lot to consume!)
Other hot recent releases from Sci Fidelity that I have had the pleasure of enjoying:
Keller Williams
'
Dream
(read Any Given Tuesday's
review of Dream here
), and
Tea Leaf Green
's concert film/documentary, "Rock 'n' Roll Band", all available now from Sci Fidelity. And if jam bands aren't really your thing, try
DJ Harry
's
The String Cheese Remix Project
, a house music redux of various recordings by
The String Cheese Incident
.