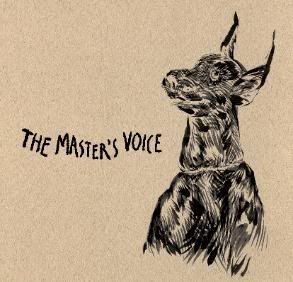 Groove band
Unknown Instructors
is made up of
Mike Watt
(fIREHOSE, The Stooges), Joe Baiza (Saccharine Trust), George Hurley (fIREHOSE), Dan McGuire, David Thomas (Pere Ubu, guest vocals on three tracks), and Raymond Pettibon (cover art, vocals on "Twing-Twang"). All respected artists, all in one place. And they released
The Master's Voice
last month on
Smog Veil Records
.
Master's
follows up the previous album,
The Way Things Work
.
Starting with a bass groove and adding helter-skelter guitars and syncopating drums, topped off with a spoken-word poetry that I'm pretty sure is ad-libbed,
The Master's Voice
is an improvisational drone-jazz-punk fusion without the annoying go-nowhere of bad improv, and without the irritating no-talent edge of bad punk. With a room full of talent like Unknown Instructors, 'bad' is just not allowed.
Tracks like "Machine Language" carry a groove from start to finish, mixing brain-twisting guitar picking and absolutely mind-melting lyrics in and still coming out listenable. The vocals, unfortunately, damage the potential for a fantastic instrumental album. Every musician gets more than one moment to show off what he is capable of on this album, but it often gets polluted by vocals that require a sack of psychotropics to deal with. "In Your Town Without You" is one of the best jams on the album, a slow groove with beefy feedback and the spooky vocals of Mike Watt. And get a load of the syncopating snare on "End of the World" and the possessed guitar that it introduces.
Listen to the Unknown Instructors for the music. Musicians will appreciate the technique. Jazz fans will respect the way the songs create themselves as the mix continues. But traditional rock tastes will not get their heads wrapped around
The Master's Voice
, because this master is using a lot of five-dollar words to get his point across.
Pick the album up through
Morphius Records
.