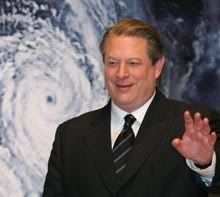 Al Gore has made it clear he
won't let Washington keep him down
. Organizers today announced sixteen of the headliners who will perform at the U.S. leg of the 7-continent, 24-hour
Live Earth
concerts on 7/7/07. The concert will be held at Giants Stadium in New Jersey, according to Live Earth Founder and Executive Producer Kevin Wall. Tickets for the show go on sale Monday, April 16 at 10 a.m. EDT. All proceeds will go to
The Alliance for Climate Protection
and other international NGOs (non-governmental organizations).
"We hope the energy created by Live Earth will jump start a massive public education effort," Live Earth Co-Chair Vice President Al Gore said. "Live Earth will help us reach a tipping point that's needed to move corporations and governments to take decisive action to solve the climate crisis."
The U.S. show will feature live on stage:
AFI
Akon
Alicia Keys
Bon Jovi
Dave Matthews Band
Fall Out Boy (if they settle their differences in time...)
John Mayer
Kanye West ("George Bush hates the planet")
Kelly Clarkson
KT Tunstall
Ludacris
Melissa Etheridge
Rihanna
Roger Waters
Smashing Pumpkins
The Police
Are the Pumpkins and the Police just playing every possible show they can get their hands on?
The following artists will perform at the London leg of Live Earth at Wembley Stadium:
Beastie Boys
Black Eyed Peas
Bloc Party
Corinne Bailey Rae
Damien Rice (
without Lisa Hannigan, of course
)
David Gray
Duran Duran
Foo Fighters
Genesis
James Blunt
John Legend
Keane
Madonna
Paolo Nutine
Razorlight
Red Hot Chili Peppers
Snow Patrol