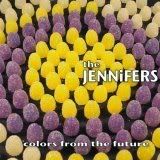 Baltimore indie pop stalwarts
The Jennifers
have been making music as sugary sweet as the gumdrops on the cover of
Colors From The Future
since 1994, when they released
Nine Days Wonder
.
Kicking off with the power pop Dorian Gray allusion "Mrs. Gray",
Colors
is lyrically amusing, with simple rhymes but a wit that has its home in the quirky city of Baltimore. Allusions to XTC obvious and ubiquitous, the songwriting is much comparable to
Robyn Hitchcock
(read Any Given Tuesday's review of Hitchock's latest,
Ole! Tarantula, here
). Like Hitchcock, The Jennifers offer up alt-pop with tongue-in-cheek, obvious yet ambiguous lyrics. And try "Queen of Eyes" for The Jennifers' take on one of Hitchcock's songs.
"Fell In A Hole" offers up Dick Dale guitar, and "Starfleet Academy" is an atmospheric dream pop change of pace. When "Oh Caroline" comes through the speakers, consider yourself challenged not to move a head or foot to the sound.
The longest track on the album, "Lion In Winter", is probably the most unique. Blues guitar and near-whisper singing lead into the chorus, followed soon after by an interlude with bridge and break lasting for several minutes before returning to the delicate twee pop that the Jennifers are so adept at expounding upon.
MP3 Download: "Lion In Winter"
Click on the album art to purchase.